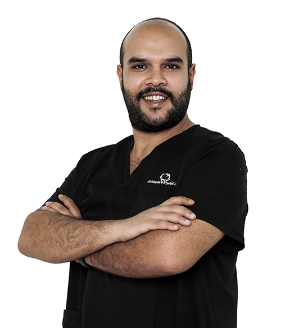 Dr. Mohamad Khalili
General Dentist

Specializations :
Orthodontic Care
Experience :
: 8+ Years of experience

Languages Spoken :
Fluent in both Arabic and English
Dr. Mohammed is dedicated to preserving your natural smile. With a passion for precision and a gentle touch, he specializes in root canal treatments and dental pulp therapies, ensuring your oral health is in expert hands.
His ultimate mission is to provide exceptional endodontic care that is pain-free and anxiety-free. You can trust him to save your teeth, as your smile is his top priority.
Academic Degrees and Certifications: Master's Degree in Endodontics from the National Dental Board. Bachelor's Degree in Dentistry from the International University for Science and Technology
Current Position and Affiliation: With 8 years of experience as an Endodontist, Dr. Mohammed is a passionate and trusted dentist dedicated to your oral health and the preservation of your radiant smile.