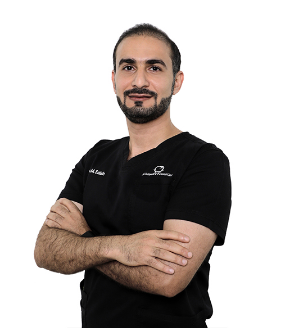 Dr. Mohamed Salah Meligy
General Dentist

Specializations :
General Dentist
Experience :
: 8+ Years of experience

Languages Spoken :
Fluent in both Arabic and English
Born and raised in the UAE, Dr. Mohamed Salah Meligy embarked on his dental journey, culminating in the completion of his dental degree at the University of Sharjah in 2012, where he earned his BDS degree.
Following his formal education, he dedicated two years to a Dental Residency postgraduate educational training program at a university dental hospital. During this period, he honed his skills and expanded his knowledge in various aspects of dentistry.
For the next decade, Dr. Meligy channeled his expertise into private practice, serving as a general dentist with a particular focus on pediatric dental care. His commitment to the well-being of young patients is evident in his extensive experience and dedication to their oral health. Dr. Meligy's commitment to excellence is further underscored by his pursuit of continuous learning. He has completed more than 25 courses and certifications in specialized fields, including endodontics (root canal therapy), laser dentistry, dental prosthetics, aesthetic restorations, and implants. With over a decade of experience, his dedication to staying at the forefront of dental innovations is unwavering.
In addition to his professional achievements, Dr. Meligy is well-versed in Sedation Dentistry, ensuring that patients experience maximum comfort during their treatments. He also possesses extensive experience in caring for children with special needs, demonstrating his commitment to providing comprehensive dental care for all. Dr. Meligy is fluent in both English and Arabic, facilitating effective communication with a diverse range of patients. His passion for dentistry and unwavering commitment to delivering high-quality care make him a trusted and skilled practitioner in the field.