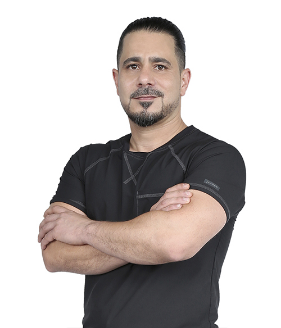 Dr. Omar Farouq Alshannaq
German Board-Certified Dentist

Specializations :
General Dentist
Experience :
: 8+ Years of experience

Languages Spoken :
Fluent in both Arabic and English
With over two decades of experience in Comprehensive Dental Treatments and a decade specializing in Implant Dentistry, I bring a wealth of expertise and compassion to my practice. My academic and clinical journey has provided me with a strong foundation in patient assessment, medical history review, oral screenings, diagnosis, and the development of comprehensive treatment plans. My extensive knowledge spans various dental domains, ranging from routine dental care to complex oral rehabilitation and surgical procedures, including Dental Implants.
One of my upcoming publications, "Creative Extraction Techniques for Complicated Cases to Minimize Complications in Vital Areas and Preserve Nerves, Bones, and Sinuses from Injury," delves into innovative methods to ensure the safety of patients during intricate dental procedures. In addition to my clinical skills, I am proficient in three languages: Arabic, English, and German.
**Academic Degrees and Certifications** - GBOI Expert, 2019 (Expert German Board of Oral Implantology) - GBOI, 2013 (German Board of Oral Implantology) - DGZI, 2012 (German Society Of Dental Implantology e.V) - BDS in Dentistry, 2002 - DHA Licensed Implantologist, 2013 - DHA Licensed Dentist, 2010 - Jordan Dental Association, 2003
**Implant Treatments** 1. SINGLE TO FULL MOUTH Implant Rehabilitation 2. Zirconia Free METAL implants and Titanium Implants 3. Ridge augmentation and sinus lifting 4. All on 4 and All on 6 Implant Rehabilitation **Periodontal Treatments** 1. Gingival depigmentation (Gum bleaching with laser) 2. Soft tissue treatments with laser and traditional techniques **Aesthetic Treatments** Cosmetic treatments and retreatments (Veneers and Lumineers) **Endodontic Treatments** Root canal treatments and retreatments **Other Certifications** Removable Aligners Inman Aligner Certified. Dr. Omar Farouq Alshannaq is dedicated to providing exceptional dental care, backed by a strong academic background and years of practical experience. His commitment to patient well-being and his proficiency in a variety of dental procedures make him a trusted and reliable dentist in the field.