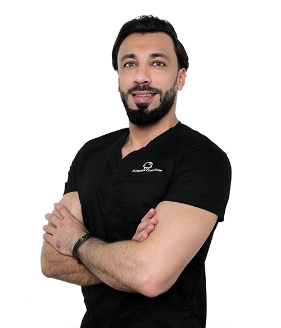 Dr.Omar Jaber Mahmood
General Dentist

Specializations :
General Dentist
Experience :
: 8+ Years of experience

Languages Spoken :
Fluent in both Arabic and English
Certainly, here's the information about Dr. Omar Jaber Mahmood with some spacing to highlight key points: Dr. Omar Jaber Mahmood is an experienced dentist known for his compassion and dedication in the field of Comprehensive Dental Treatments. With over a decade of hands-on experience, he has developed exceptional skills in patient care and diagnosis. Driven by a strong academic and clinical background, he excels in various aspects of dentistry, from initial patient assessments to complex surgical procedures like Dental Implants.
Fluent in both Arabic and English, Dr. Omar provides comprehensive care to a diverse patient base.
His academic background includes a degree in Dentistry and a prestigious certification in Restorative Dentistry. Licensed by the Dubai Health Authority (DHA), Dr. Omar meets rigorous standards of practice and is affiliated with the Iraq Dental Association. His expertise encompasses a wide spectrum of dental procedures, ranging from routine treatments to complex mouth rehabilitation and surgical interventions. Dr. Omar's multilingual proficiency ensures effective patient-provider interactions. In terms of his work experience, he specializes in operative and conservative treatments, non-surgical periodontal treatments, and cosmetic dentistry, including teeth whitening, veneers, and lumineers. Dr. Omar is also known for his expertise in aesthetic treatments, such as smile design and clinical evaluation. His proficiency extends to restorative dentistry, including dental bridges, crowns, inlays, onlays, customized posts, and endocrowns.
Additionally, he excels in root canal treatments and retreatments, often without prefabricated posts. Patient comfort is a priority for Dr. Omar, and he provides calm and professional care while explaining procedures and managing treatment plans with care, particularly for patients dealing with dental anxiety and phobias. Dr. Omar collaborates effectively with in-house Prosthodontists and Orthodontists for comprehensive full mouth rehabilitation. He is also proficient in routine diagnostic radiography and well-versed in dental software systems, facilitating efficient patient case management. Dr. Omar Jaber Mahmood's commitment to delivering high-quality dental care, combined with his diverse skill set and patient-centered approach, makes him a trusted and respected dentist in the field.